This page is used by SNOMED International Members to share implementation materials relating to the use of SNOMED CT with FHIR.
Members and other organisation who are able to share profiles please do so here by editing the page and adding a file to the appropriate section (or create a new one).  The screenshot below shows the button to use.   If anyone runs into problems doing this, please email your file to pwi@snomed.org and I'll pop it in here.   Thanks!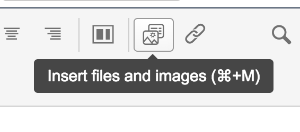 Australia
Australia's National Clinical Terminology Service is based on the FHIR Terminology Subsystem. For details refer to https://www.healthterminologies.gov.au/.
Resources for Implementers and Developers: https://www.digitalhealth.gov.au/implementation-resources
A SNOMED browser that uses only the FHIR Terminology Service APIs: http://ontoserver.csiro.au/shrimp 
Canada
Canada has an InfoCentral page that gathers FHIR information which is freely accessible through an account. On that page you can find the link to the FHIR Community that is quite active.
Canada also has a tool called the terminology gateway - a web based solution framework enabling the distribution and sharing of terminology concepts, subsets and concept maps, making them available for web browsing, download or real time query.
Canada Health Infoway has also launched the Canadian FHIR Registry, which is powered by the Simplifier.net platform (a web solution built by Furore).
Latin America
A link on the possibilities of HL7 FHIR in Latin America:  http://blog.hl7.org/hl7fhirlatam1
Netherlands
Nictiz has a general repository of FHIR STU3 conformance resources, including MedMij and HL7 NL - https://simplifier.net/NictizSTU3/~resources?category=Profile&fhirVersion=STU3.
The simplifier profiles in this repository are based on the functional models found here: https://zibs.nl/wiki/HCIM_Release_2017(EN).
New Zealand
FHIR terminology resources are available on Valentia SnoChillies terminology Server:https://valentiatech.snochillies.com/
         Value sets
Code Systems (SNOMED CT, LOINC)



Concept Map

capability statement ( format can in xml or in json )
SNOMED browser: https://snochillies.com/ 
Contact: Abdul Rauf (abdul.rauf@valentiatech.com)
NZ FHIR-based Terminology Service API...http://its.patientsfirst.org.nz/RestService.svc/Terminz. 
Some features and resources can be requested via the Test page at http://itp.patientsfirst.org.nz/Home/Terminology
UK
UK FHIR profiles developed through INTEROpen with input from NHS Digital and the vendor community include:
URUGUAY
The Salud.uy program that developed the National Electronic Health Record for Uruguay began in 2017 a FHIR test server  https://fhir1.salud.uy in the fields of :
e-Receta, using the FHIR resources : Medication , MedicationRequest and MedicationDispense.
Dynamic Search for Dictionares and catalogues based on the Uruguayan extension of SNOMED CT, using the resources : CodeSystem and ValueSet    https://hcen.salud.uy/web/pub/catalogos  This interface was created using vue.js
US
NLM resources for FHIR are available through the Value Set Authority Center (VSAC) - https://vsac.nlm.nih.gov/
Existing FHIR terminology services

code systems (SNOMED CT, LOINC, RxNorm + all code systems required to support clinical quality measures in the Meaningful Use incentive program)
value sets
capability statement
supported several connectathons

Upcoming FHIR terminology services

ExpansionProfile

ConceptMap
Contact: Maureen Madden (maureen.madden@nih.gov)
Other Shared Documents