Open the Command Prompt in Administrator Mode
In the main Window menu locate the Command Prompt Desktop app.

Right-click on this item to show the drop down menu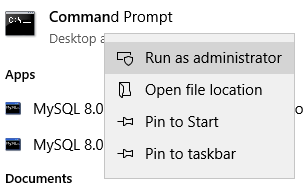 Select the Run as administrator option.

This is necessary as some steps below require administrator status.
Run the Following Commands from the Command Prompt
Type the following command to change directories to the SnomedRfsMySql.
Adjust the path as necessary if you have not installed the SnomedRfsMySql folder in the root folder on drive C.
Type the following command to stop the MySQL server (if it is running).
Type the following command to run the configuration process. This command runs a script that updates the MySQL server configuration.
Type the following command to restart the MySQL server
---
Feedback
Overview
Content Tools
Apps