Skip to end of metadata
Go to start of metadata
Additional Notes
This is an expedited unscheduled release to resolve a critical issue with search results not displaying terms for Managed Service and Training Authoring Platforms.
There is currently a known occasional issue relating to default language settings, but it has a quick workaround in the search panel - if a language error message appears instead of the search results, please select one of the options in the Filter by dropdown (for the Training Authoring Platform these will be  FSN in US or PT in ZZ ):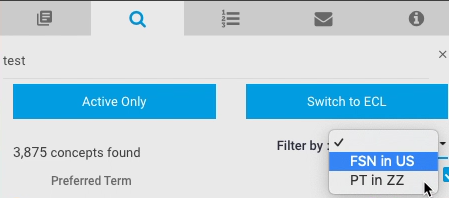 This will set a default language, and present the results to match. Once set, the last language choice used in the search is persisted on the server across user login sessions.
Module versions in this deployment
| Module | Version | Deployment notes |
| --- | --- | --- |
| Authoring-Services (API) | 5.13.0 | unchanged |
| Authoring-UI | 4.2.1 | new |
| Drools Rules | 1.28.0 | unchanged |
| Orchestration Service | 1.38.1 | unchanged |
| Reporting_UI (Schedule_Manager_UI)  | 1.2.4 | unchanged |
| Reporting_Engine (Schedule_Manager) | 3.5.1 | unchanged |
| SNOMED Templates | 1.5.2 | unchanged |
| Template Service (API) | 1.8.1 | unchanged |
| Terminology Server | 6.10.7 | unchanged |
| Traceability Service | 1.4.0 | unchanged |
| TS Browser | 1.1.6 | unchanged |
 Related dependencies for information
| Module | Version | Info/context notes |
| --- | --- | --- |
| Classification Service | 4.2.0 | unchanged |
| CIS | 1.2.5 | unchanged |
| Identity Management Service (IMS) | 2.0.0 | unchanged |
| RVF-API | 2.4.3 | unchanged |
| SRS-API | 1.4.0 | unchanged |