Skip to end of metadata
Go to start of metadata
Overview
Documentation on releasing a refset.
Prerequisites
For releasing a refset, the members must have completed the review workflow phase(s).
Releasing a Refset
To release a refsetfollow these steps:
Log into the tool (https://refset.ihtsdotools.org)
Select the "Refset" tab or the "Directory" tab.
Ensure that your project role is the final reviewer in your project's workflow.
Choose the Refset you want to release.
Click the 

'Mark ready for publication' icon for the refset.  Note: the refset must be 'Finished' first.
Refset moves into the Release accordion.
Start the release process by clicking the 
release icon next to the refset to be released.

Complete the Release Refset form.  Click Release.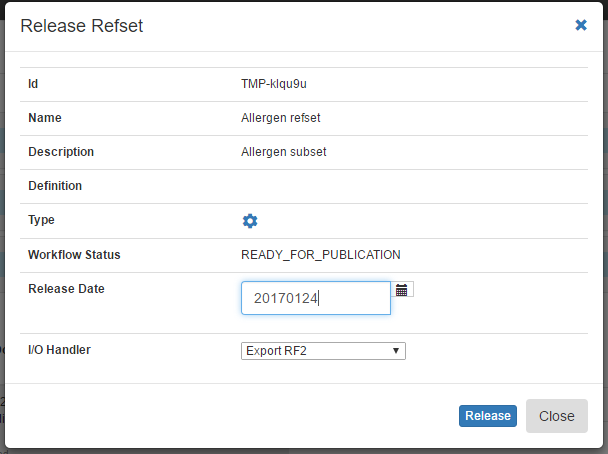 Click through to validate the release and create the beta release.
The beta release can be viewed in the 'Releases' accordion.

Click the 
release icon on either the BETA or the READY_FOR_PUBLICATION refset to finalize the release.
The published refset is viewable and downloadable from the 'Releases' accordion as shown below.