Welcome to week 1 of the SNOMED International 2021 October Business Meetings!
This week's schedule features a packed lineup of our many advisory, project, user, clinical, and governance meetings. Please refer to the full schedule at https://confluence.ihtsdotools.org/wotw.  Access meetings open to observers via the zoom links provided on the "What's on this Week" calendar.  
Want to get caught up on what the organization has been progressing since our April 2021 Business Meetings? Read the SNOMED CT Community Updates for a summary account of activities achieved across the organization's lines of businesses.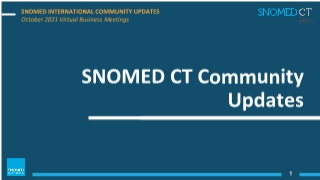 Enjoy week 1 of the 2021 October Business Meetings!