Skip to end of metadata
Go to start of metadata
October Business Meetings
October 5-9, 2020 - Virtual Sessions
Due to the ongoing the COVID-19 situation, it was apparent that travel restrictions would remain in place for many of our SNOMED CT community in October. After much analysis and discussion, SNOMED International governance and organizational leadership decided that the October 2020 Business Meetings and SNOMED CT Expo 2020, taking place October 5-9, would be run solely as a virtual event.  Portugal will now serve as the October Business Meeting and SNOMED CT Expo host in 2021, with subsequent awarded hosts to follow accordingly.
Where appropriate, our Advisory and Working Groups held open (or 'open to observers') Zoom sessions during the first week of October 2020. This included a coordinated program focused on our Clinical Reference Groups and how SNOMED CT supports clinicians, held from 13:00-17:30 UTC on Wednesday 7th October. 
The confirmed schedule was shared on SNOMED International's What's on this Week Calendar.

Business Meeting Documents & Recordings:
Community Updates: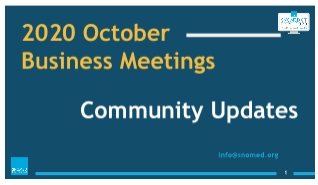 SNOMED Strategy & Progress Update (Open General Assembly)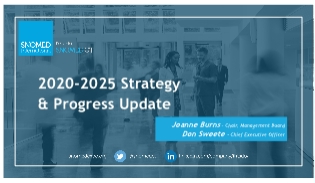 SNOMED & Innovation (Open General Assembly)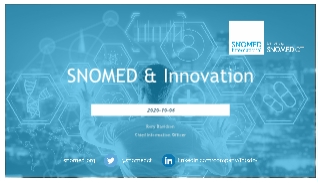 Clinical Session
Please find recordings and presentations from the Clinical Session on October 7th 2020 here: