search
attachments
weblink
advanced
tooltip
Overview
Content Tools
Apps
Attached please find a briefing note that was sent to the Member Forum to update them on the establishment and activities of the Devices Working Group.  For further reference, this project group's Confluence space is located at: https://confluence.ihtsdotools.org/display/IAP/Devices+Project
Please contact info@snomed.org with any inquiries.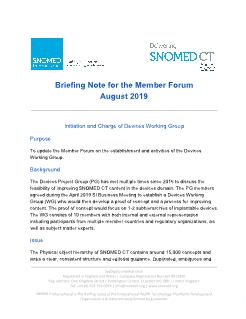 Dear all
On-going status of the project can be tracked using following links in the correct sequence as advised below. The first link will show you the JIRA tickets, which are either completed or in progress. Each ticket documents progress of a a sub-hierarchy or part of it, by using the second link you can track the Clinical findings, the JIRA tickets refer to. For example Qi-20 about 125666000 |Burn| is completed, by searching for "125666000" in the daily build on the second link, you will find what had been done to "Burn"
If you have any question please contact info@snomed.org or psk@snomed.org 
Thanks, 
SNOMED Content team
Dear all
This is a follow-up email on the DEMO release announcement to inform you that it includes Drugs and Substances. It is a demonstration of use of axioms on role, we don't expect feedback from you. The DEMO release will be taken down on 05-OCT-2018, and the content will be officially released in the International Release schedule for 31-JAN-2019. 
Please bear in mind that all "in-working-progress" documents are not accessible at this point in time, they will be released by 31-JAN-2019 together with the content. The changes in this Demo release can be viewed here https://confluence.ihtsdotools.org/display/RMT/Early+Visibility+-+Planned+changes+to+upcoming+SNOMED+International+Release+packages
Please let me know if you need further information.
Best regards,
Phuong
Most Substance changes have been done, however the numbers are still evolving and will likely change before the final version of the release notes are generated in November. This is to be presented to Member Forum and has been released to the Project Group for review, advisory group members wishing to view or comment can find further details in Drug Position statement and Substances briefings
Substance Disposition updates have been presented to Member Forum and been released to the Project Group for review, advisory group members wishing to view or comment on the document can find further details under the Documentation section on the Substances Confluence site
The Editorial Guidelines for International Drug Model document has been released to the Project Group for review; advisory group members wishing to view or comment on the document can find further details under the Announcements section on the following Confluence site: