...
To view mappings for a project, click on a concept id anywhere in the application.  For example, in the view above, search for 100191000119105 in the map records view and click on the concept id.  This opens a view listing the current state of the map record for this concept in this project.  It also has a widget to show prior history of this record, so a SPECIALIST or LEAD could see edits that had been made along the way leading up to the latest version of the record.  VIEWERs would only see prior publication states if they were different.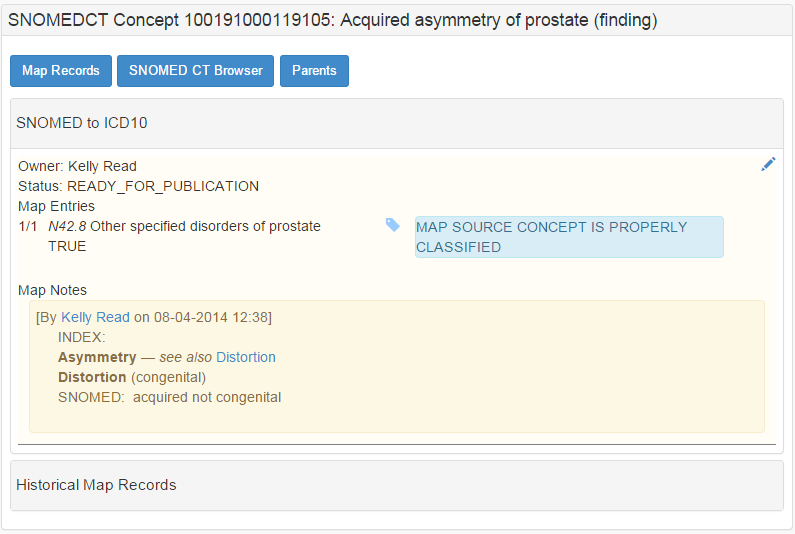 Anchor
| | |
| --- | --- |
| | RelationshipTypes |
| | RelationshipTypes |
 Advanced Search Relationship Types
Access
Access instrument
After
Approach
Associated etiologic finding
Associated finding
Associated function
Associated morphology
Associated procedure
Associated with
Causative agent
Characterizes
Clinical course
Communication with wound
Component
Course
Direct device
Direct morphology
Direct site
Direct substance
Due to
During
Episodicity
Extent
Finding context
Finding informer
Finding method
Finding site
Has active ingredient
Has basic dose form
Has basis of strength substance
Has definitional manifestation
Has disposition
Has dose form administration method
Has dose form intended site
Has dose form release characteristic
Has dose form transformation
Has focus
Has intent
Has interpretation
Has manufactured dose form
Has measured component
Has presentation strength denominator unit
Has presentation strength denominator value
Has presentation strength numerator unit
Has presentation strength numerator value
Has specimen
Has state of matter
Indirect device
Indirect morphology
Inherent location
Inheres in
Instrumentation
Interprets
Is a
Laterality
Location
Measurement method
Measures
Method
Occurrence
Onset
Part of
Pathological process
Pathological process (qualifier value)
Precondition
Priority
Procedure context
Procedure device
Procedure morphology
Procedure site
Procedure site - Direct
Procedure site - Indirect
Process output
Property
Property type
Recipient category
Relative to part of
Revision status
Route of administration
Scale type
Severity
Specimen procedure
Specimen source identity
Specimen source morphology
Specimen source topography
Specimen substance
Stage
Subject of information
Subject relationship context
Surgical approach
Technique
Temporal context
Temporally follows
Temporally related to
Time aspect
Using
Using access device
Using device
Using energy
Using substance
...
References/Links