3 Technical notes
3.1 Known Issues
Known Issues are content or technical issues where the root cause is understood, and the resolution has been discussed and agreed but has yet to be implemented.  This can be due to a number of reasons, from lack of capacity within the current editing cycle, to the risk of impact to the stability of SNOMED CT if the fix were to be deployed at that stage in the Product lifecycle.  
For the Snomed CT July 2017 International edition, the following Known Issues were identified, and agreed to be resolved in the next editing cycle (to be published in July 2017):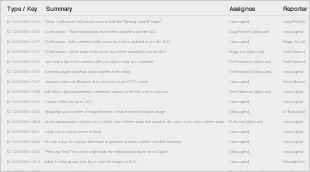 3.2 Resolved Issues
Resolved issues are Known Issues which were not fixed as part of the previous release lifecycle, but which have now been resolved in the latest release - in this case the July 2017 International Edition.  They can also be issues found during the Alpha and Beta testing of the current release, which were resolved before the final deployment of the associated Member release.  Finally they can be issues which were reported or found during the testing phase, but which have been closed without any action taken.  
The Resolved Issues for the Snomed CT July 2017 International edition can be found here: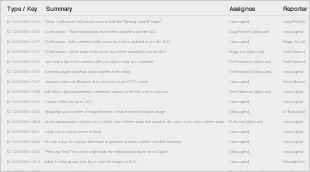 3.3 Technical updates
3.3.1  RF2 package naming convention
The naming convention of the RF2 package zip file has been improved, in order to bring it into line with the ISO8601 standard.  A "Z" suffix has therefore been added to this package name (but not to internal file names), and will be added to all release package names going forward. This ensures that the time in the release package name is set in the correct context, namely UTC. In this case then, instead of the July 2017 International Edition release package being called:
It has instead been called:
3.3.2  
Update to case significance assignment, in line with the RF2 specification
The incorrect assignment of case significance for descriptions has been fixed according to the RF2 specification.  The issue was that the value 900000000000448009 |Entire term case insensitive| had not been used due to the data migration from RF1 and limitation of authoring tools. In fact, a majority of SNOMED CT descriptions should have been 'Entire term case insensitive'.  These terms can be freely switched to lower or upper case without impact to meaning.  The technical batch changes have therefore been made to the case significance value to address this issue.  For full details please see the document here: IHTSDO-950 Update of case significance assignment following the RF2 specification
3.3.3  Addition of the MRCM Refsets to the International Edition package
The MRCM Refsets, which were published in February 2017 as a Beta release, have now been included in the International Edition Release package. The following four new files have been incorporated into the Metadata folder, which is a sub-folder of the Refset folder in the Release package:
der2_sssssssRefset_MRCMDomainDelta_INT_20170731.txt
der2_cissccRefset_MRCMAttributeDomainDelta_INT_20170731.txt
der2_ssccRefset_MRCMAttributeRangeDelta_INT_20170731.txt
der2_cRefset_MRCMModuleScopeDelta_INT_20170731.txt
3.3.4  Improvements to the RefsetDescriptor file
The refsetDescriptor file has been improved in order to include descriptors for the pre-defined reference set types.  It also now includes refsetDescriptor records to described the four new MRCM refsets now included in the International Edition from July 2017 onwards.  Please see section 3.3.3. for further details of these refsets.
3.3.5  Addition of a new SEP refset to the International Edition package
This refset is being added in order both to assist with the interim solution for the Additional, non-defining Relationships, and also to enable us to further improve our Quality Assurance processes. Please see the following page for details of the proposed new Refset:  SEP maps and refset
3.3.6  Removal of the SNOMED CT RT Identifier refset from the International Edition package
As has been communicated previously (across various forums) over the past several years, in 2009 SNOMED International's General Assembly decided that effective April 26, 2017 SNOMED International would no longer license the use of SNOMED antecedent (old) works.  This decision received the clinical support of the World Association of Societies of Pathology and Laboratory Medicine, as they had identified the same risks.  From April 26, 2017, therefore, SNOMED International is no longer maintaining antecedent versions of SNOMED, including SNOP, SNOMED, SNOMED II, SNOMED International (3.x), and SNOMED RT. Since both clinical science and terminology have evolved considerably since its development, the use of these older versions may involve risk to patients and safety issues. 
SNOMED International cannot be responsible for this risk, and therefore in the original announcement strongly urged users of these antecedent versions to migrate to SNOMED CT as soon as possible.
As part of this process, the antecedent SNOMED Identifier reference set will be withdrawn and no longer be available in the International Edition release.
To provide a shared resource and a single source of truth on these antecedent issues we have assembled a set of FAQs available at our SNOMED International website here: https://ihtsdo.freshdesk.com/support/solutions/folders/4000013539
3.3.7  RF2 package format
For future reference, the RF2 package convention dictates that it contains all relevant files, regardless of whether or not there is content to be included in each particular release.  Therefore, the package contains a mixture of files which contain both header rows and content data, and also files that are intentionally left blank (including only a header record).  The reason that these files are not removed from the package is to draw a clear distinction between
...files that have been deprecated (and therefore removed from the package completely), due to the content no longer being relevant to RF2 in this or future releases, and 

...files that just happen to contain no data in this particular release (and are therefore included in the package but left blank, with only a header record), but are still relevant to RF2, and could therefore potentially contain data in future releases.
This allows users to easily distinguish between files that have purposefully been removed or not, as otherwise if files in option 2 above were left out of the package it could be interpreted as an error, rather than an intentional lack of content in that release.
3.3.8  Early visibility of impending change in the January 2018 International edition
Please see the following page for details of all upcoming changes planned for January 2018 and beyond:  Early Visibility - Planned improvements to upcoming SNOMED International Release packages
NOTE:  To access any of the links in the pdf document, please visit the Release Notes online here:  
https://confluence.ihtsdotools.org/display/RMT/SNOMED+CT+July+2017+International+Edition+-+SNOMED+International+Release+notes