...
Dieser Abschnitt bietet einen Überblick über die folgenden Punkte:
SNOMED International

Members and

Mitglieder und

National Release Centers

(NRCs)

Foren von

SNOMED International

Forums

,

Advisory Group and

beratende Organe (Advisory Groups) und Interessengruppen (

Special Interest Groups

)

Kooperationsplattform von

SNOMED International

Collaborative
...
Weshalb ist das wichtig
?
SNOMED International is the not-for-profit organization that owns and administers SNOMED CT, and owns the rights to SNOMED CT and related terminology standards.
What is this?
SNOMED International the trading name of IHTSDO
Footnote Macro
SNOMED International is the trading name of a company with the legal name IHTSDO.
 is an association governed by a General Assembly that contains one representative of each of its national Members. For more information about the use of the names SNOMED International and SNOMED International please refer to ist die gemeinnützige Organisation, die SNOMED CT besitzt und verwaltet sowie die Rechte an SNOMED CT und damit verbundenen Terminologiestandards besitzt.
Worum geht es?
SNOMED International, die Geschäftsbezeichnung der IHTSDO, umfasst je einen Vertreter pro Mitgliedsstaat. Weitere Informationen zur Verwendung der Bezeichnungen SNOMED International und SNOMED CT finden sich unter SNOMED International Adopts Trading Name of SNOMED International Media FAQ.
SNOMED International seeks to improve the health of humankind by fostering the development and use of suitable standardized clinical terminologies, notably SNOMED CT, in order to support safe, accurate, and effective exchange of clinical and related health information. The focus is on enabling the implementation of semantically accurate health records that are interoperable.
The purpose of SNOMED International is to develop, maintain, promote and enable the uptake and correct use of its terminology products in health systems, services and products around the world, and undertake any or all activities incidental and conducive to achieving the purpose of the Association for the benefits of the members.
The bodies and forums of SNOMED International are the foundation for the continuous maintenance, development and distribution of SNOMED CT, and they provide the organizational framework for communication and collaboration between the different parts of the SNOMED community.
Members of IHTSDO
SNOMED International now has 30 national Members. An updated list of the current members can be found at the SNOMED International web page International ist bestrebt, die Gesundheit der Menschheit durch Entwicklung und Einsatz geeigneter standardisierter medizinischer Terminologien – insbesondere SNOMED CT – zu verbessern. Dadurch soll eine sichere, präzise und effektive medizinische Datenkommunikation und damit verbundenen Gesundheitsinformation unterstützt werden. Der Schwerpunkt liegt hierbei auf der Einführung von semantisch akkuraten und interoperablen EHRs.
SNOMED International hat den Zweck, Akzeptanz und korrekte Verwendung seiner Terminologieprodukte in Gesundheitssystemen, -dienstleistungen und -produkten weltweit voranzutreiben, aufrechtzuerhalten, zu fördern und zu ermöglichen, sowie förderliche Massnahmen zu ergreifen, die dem Zweck des Vereins zum Nutzen der Mitglieder dienen.
Die Gremien und Foren von SNOMED International bilden die Grundlage für die kontinuierliche Pflege, Entwicklung und Verbreitung von SNOMED CT. Sie sind der organisatorische Rahmen für Informationsaustausch und Zusammenarbeit zwischen den verschiedenen Teilen der SNOMED Community.
Mitglieder der SNOMED International (IHTSDO)
SNOMED International (vormals: IHTSDO) hat zum Zeitpunkt der Erstellung dieses Dokuments 39 Mitgliedsstaaten. Eine aktuelle Liste der derzeitigen Mitglieder ist auf der Website von SNOMED International (http://snomed.org/members/) . Members can be either an agency of a national government or another body endorsed by an appropriate national government authority within the country it represents. SNOMED International welcomes new Members.Members pay a fee, based on national wealth, to SNOMED International which gives them the right to a seat on the General Assembly. SNOMED International does not charge Affiliate Licensees for use of the SNOMED CT International Edition within Member countries. Licensing is also free in the poorest countries and for certain approved public-good uses in other countries. In other cases, low-cost per-institution charges apply to the use of SNOMED CT in operational systems involved in data creation and/or analysis. All use of SNOMED CT is subject to the acceptance of the terms of the SNOMED CT Affiliate License agreement zu finden. Mitglieder können entweder eine Stelle einer staatlichen Behörde oder ein anderes Gremium sein, das von einer zuständigen Regierungsbehörde des Landes dazu ermächtigt wurde. SNOMED International heisst neue Mitglieder willkommen.
Auf der Grundlage ihres jeweiligen Volksvermögens zahlen die Mitglieder an SNOMED International einen Beitrag, der ihnen das Recht auf einen Sitz in der Generalversammlung einräumt. Für die Nutzung der internationalen Ausgabe von SNOMED CT innerhalb der Mitgliedsstaaten erhebt SNOMED International von den Partner-Lizenznehmern keine Gebühren. Kostenlos ist die Lizenzierung auch in den ärmsten Ländern und für bestimmte zugelassene öffentliche Nutzungen in anderen Ländern. In den übrigen Fällen fallen für die Nutzung von SNOMED CT in operativen Systemen zur Datenerfassung oder Datenverarbeitung geringe Kosten pro Einrichtung an. Jede Nutzung von SNOMED CT unterliegt der Annahme der Bedingungen in der Partner-Lizenzvereinbarung zu SNOMED CT (http://snomed.org/license) and the terms of sublicenses issued to end-user organizations by Affiliate Licensees. Members may also impose additional conditions on use of SNOMED CT within their countries. For example, a Member may require licensees to support and include its National Extension in its implementations.
National release centers
Members undertake a range of activities related to their involvement in SNOMED International and their role in distributing, extending and supporting the use of SNOMED CT in their country. The organization or agency that coordinates this role in each country is referred to as a National Release Centre (NRC). National Release Centers provide a single point of contact for communications with SNOMED International and other Members. Within their own countries, NRCs manage the use of SNOMED CT and communicate with a range of stakeholders, including SNOMED CT Affiliate Licensees, healthcare institutions, clinical groups and end users.
Governance
An overview of SNOMED International governance and advisory structures are shown in the following figure.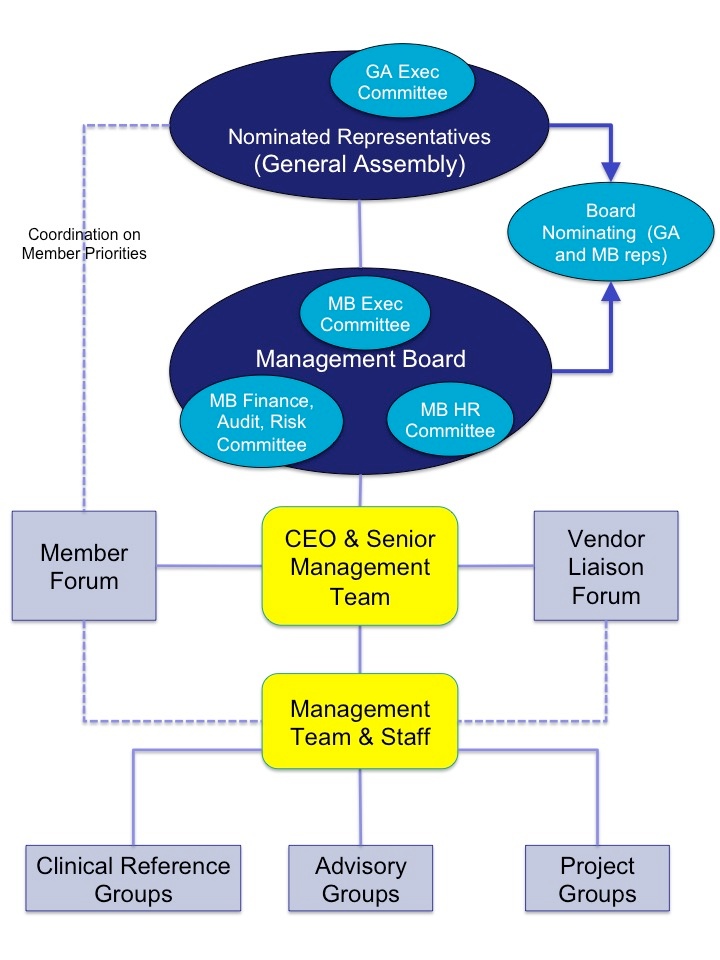 Image Removed
General Assembly
The General Assembly is the highest authority in SNOMED International and contains one representative from each of its national Members. The General Assembly is collectively responsible with assuring that the Purpose, Objects and Principles of the Association are pursued and that the interests of SNOMED International are safeguarded. It can make binding decisions regarding all matters relating to IHTSDO, subject to and in accordance with the provisions of the Articles of Association, such as budget, work plan and strategic goals. It is recommended though not required that General Assembly representatives attend all meetings. Face to face meetings occur usually twice per year with occasional teleconferences and electronic voting.
Management Board
The Management Board is appointed by the General Assembly. Members have the opportunity to nominate delegates to the Board. The Management Board directs the Association and has the responsibility for key business decisions. It has at least three face-to-face meetings per year with teleconferences between these meetings.
The Management Board also appoints the Chief Executive Officer (CEO), who has day-to-day responsibility for running the organization. A Management Team, with members each responsible for a particular line of business, supports the CEO and directs the work or additional employees.
Advisory bodies
Member Forum
Each Member is entitled to choose a representative to the 
 (MF). The MF acts as an advisory body to the Management Board.
The MF is also a means for optimizing the collaboration and coordination among Member countries provides a means for Members to have discussions on specific Member issues. Moreover, the MF facilitates contact and communication between countries with similar foundations, needs, priorities, etc. It is recommended that each Member gets involved with and makes use of the MF.
The MF can raise issues of concern to the Management Board and is asked by the Management Board for specific feedback on items. The MF is the conduit for communicating widely on consultations that SNOMED International may undertake. These consultations may include specific issues related to SNOMED CT content or SNOMED International documents, products and services. The MF is also a key player in determining which SNOMED International work items should be undertaken and prioritized.
Vendor Forum
The structure and role of the Vendor Forum (VF) is currently being revised as part IHTSDO's vendor strategy. As an expert group from a range of industry sectors, the VF will identify ways to facilitate use of SNOMED CT.
Advisory groups
The role of each Advisory Group is to provide advice to the applicable Management Team member(s) on specific areas that are included in the Terms of Reference to further the knowledge and direction of the organization. At the beginning of each year, each Advisory Group develops a group work plan outline, determines whether Task and Finish sub-groups are required, outlines any resource requirements needed, and lays out a set of measures in order to monitor the progress of the applicable group work plan.
Advisory Group members are selected by two different nomination processes. The Terms of Reference of each Advisory Group describes which of the two is relevant (or if a combination of the two is used). 
Member-based nominations

 are used when SNOMED International seeks to create a forum for SNOMED International staff to work closely with Members. Under this system, Members nominate representatives to serve on an Advisory Group, so the Advisory Group members are 

representing

 their Member countries. 

Standard nominations 

rely on a standard, open, skills-based nomination process. Advisory Group members selected through this process may submit to SNOMED International any approved travel expenses for reimbursement to attend approved face-to-face Advisory Group events (SNOMED International Travel Policy has more information about approved expenses and means of submission).
More information about Advisory Groups can be found at und der Bedingungen in Unterlizenzen, die von Partner-Lizenznehmern an Endnutzerorganisationen vergeben werden. In ihren Ländern können die Mitglieder auch zusätzliche Bedingungen für die Nutzung von SNOMED CT festlegen. Ein Mitglied kann beispielsweise von den Lizenznehmern verlangen, dass sie die nationale Erweiterung unterstützen und in ihre Implementierungen einbeziehen.
National Release Centers (NRCs)
Die Mitglieder ergreifen verschiedene Massnahmen im Zusammenhang mit ihrer Mitwirkung bei SNOMED International und ihrer Rolle bei der Verbreitung, Erweiterung und Unterstützung der Nutzung von SNOMED CT in ihrem Land. Die Organisation oder Stelle, die diese Rolle im jeweiligen Land koordiniert, wird als National Release Center (NRC) bezeichnet. NRCs stehen als Ansprechpartner für die Kommunikation mit SNOMED International und anderen Mitgliedern zur Verfügung. Innerhalb des jeweiligen Staates verwaltet ein NRC die Nutzung von SNOMED CT und kommuniziert mit einer Reihe von Interessenträgern, einschliesslich Partner-Lizenznehmern von SNOMED CT, Gesundheitseinrichtungen, und klinischen Anwendergruppen.
Leitung
Die folgende Abbildung bietet einen Überblick über die leitenden und beratenden Organe von SNOMED International.
Abbildung 13: SNOMED International Governance- und Beratungsstrukturen
Generalversammlung (General Assembly)
Die Generalversammlung ist die höchste Instanz von SNOMED International und besteht aus je einem Vertreter pro Mitgliedsstaat. Die Mitglieder der Generalversammlung sind gemeinsam dafür verantwortlich, dass Zweck, Ziele und Grundsätze des Vereins verfolgt und die Interessen von SNOMED International gewahrt werden. Die Generalversammlung kann verbindliche Entscheidungen über alle Angelegenheiten im Zusammenhang mit der IHTSDO treffen, vorbehaltlich und in Übereinstimmung mit den Bestimmungen der Statuten, wie z.B. Budget, Arbeitsplan und strategische Ziele. Es wird empfohlen, aber nicht verlangt, dass die Mitglieder der Generalversammlung an allen Sitzungen teilnehmen. Sitzungen mit persönlicher Teilnahme finden in der Regel zweimal pro Jahr statt. Sie werden mit gelegentlichen Telefonkonferenzen und elektronischen Abstimmungen ergänzt.
Vorstand (Management Board)
Der Vorstand wird von der Generalversammlung ernannt. Die Mitglieder der Generalversammlung können Delegierte für den Vorstand nominieren. Der Vorstand leitet den Verein und trägt die Verantwortung für wichtige Geschäftsentscheidungen. Er hält mindestens drei persönliche Sitzungen pro Jahr ab. Zwischen diesen Sitzungen werden Telefonkonferenzen durchgeführt.
Der Vorstand ernennt auch den Hauptgeschäftsführer (Chief Executive Officer - CEO), der für das Tagesgeschäft des Vereins verantwortlich ist. Ein Managementteam, dessen Mitglieder jeweils für einen bestimmten Geschäftsbereich verantwortlich sind, unterstützt den CEO und leitet die Arbeit oder weitere Angestellte.
Beratende Organe
Mitgliederforum (Member Forum)
Jedes Mitglied ist berechtigt, einen Vertreter in das Mitgliederforum (Member Forum - MF) zu wählen. Das MF fungiert als beratendes Organ für den Vorstand und dient auch zur Optimierung der Zusammenarbeit und Koordination zwischen den Mitgliedsstaaten.
Das MF gibt den Mitgliedern die Möglichkeit, Diskussionen über spezielle, die Mitgliedschaft betreffende Fragen zu führen. Ausserdem erleichtert das MF Kontakt und Kommunikation zwischen Ländern mit ähnlichen Grundlagen, Bedürfnissen, Prioritäten usw. Es wird empfohlen, dass sich jedes Mitglied am MF beteiligt und dieses nutzt.
Das MF kann Fragen an den Vorstand richten und wird von diesem um ein spezifisches Feedback zu bestimmten Themen gebeten. Es ist ein Kanal für eine breite Kommunikation zu Konsultationen, die SNOMED International gegebenenfalls durchführt. Diese Konsultationen können spezifische Fragen im Zusammenhang mit dem Inhalt von SNOMED CT oder den Dokumenten, Produkten und Dienstleistungen von SNOMED International umfassen. Das MF ist auch ein wichtiger Akteur, wenn darüber entschieden wird, welche Arbeiten SNOMED International durchführen soll und welche Priorität diese Arbeiten haben sollen.
Anbieterforum (Vendor Forum)
Die Struktur und die Rolle des Anbieterforums (Vendor Forum - VF) werden derzeit im Rahmen der Anbieterstrategie der IHTSDO überarbeitet. Als Expertengruppe mit Mitgliedern aus verschiedenen Sektoren wird das VF Möglichkeiten für einen einfacheren Einsatz von SNOMED CT eruieren.
Beratungsgremien (Advisory Groups)
Jedes Beratungsgremium hat die Aufgabe, das/die jeweilige(n) Mitglied(er) des Managementteams in bestimmten Bereichen zu beraten, die in den Statuten aufgeführt sind, um das Wissen und die Ausrichtung der Organisation zu fördern. Zu Beginn jedes Jahres erstellt jedes Beratungsgremium einen Gruppenarbeitsplan, legt fest, ob Aufgaben- und Abschluss-Untergruppen erforderlich sind, skizziert den jeweiligen Ressourcenbedarf und legt einen Massnahmenkatalog fest, um den Fortschritt in Bezug auf den jeweiligen Gruppenarbeitsplan überprüfen zu können.
Mitglieder von Beratungsgremien werden im Rahmen von zwei verschiedenen Auswahlverfahren berufen. In den Statuten jedes Beratungsgremiums ist festgehalten, welches der beiden Verfahren oder ob eine Kombination beider Verfahren zur Anwendung kommt.
Nominierungen durch Mitglieder

werden angewandt, wenn ein Forum zur engen Zusammenarbeit zwischen den Mitarbeitern von SNOMED International und den Mitgliedern geschaffen werden soll. Im Rahmen dieses Systems nominieren die Mitglieder Vertreter für die Mitwirkung in einem Beratungsgremium, so dass die Mitglieder des Beratungsgremiums ihre Mitgliedsstaaten vertreten.

Standard Nominierungen

beruhen auf einem standardisierten, offenen, kompetenzbasierten Nominierungsverfahren. Die im Rahmen dieses Verfahrens ausgewählten Mitglieder des Beratungsgremiums können bei SNOMED International alle genehmigten Reisekosten einreichen, die ihnen im Zusammenhang mit der persönlichen Teilnahme an genehmigten Sitzungen des Beratungsgremiums erstattet werden (die Reiserichtlinien von SNOMED International enthalten weitere Informationen zu den genehmigten Ausgaben und Einreichungsmöglichkeiten).
Weitere Informationen zu den Beratungsgremien finden sich unter http://snomed.org/advisory. 
Klinische Referenzgruppen (
Clinical Reference Groups
...
)
Klinische Referenzgruppen liefern klinischen Input zur Unterstützung der Weiterentwicklung von SNOMED CT. Diese Gruppen sind auf medizinische Fachgebiete ausgerichtet, wobei jedes Fachgebiet über seinen eigenen, auf der Kooperationsplattform Confluence basierten Bereich verfügt. Jeder dieser Bereiche unterstützt Diskussionen und Wissensaustausch. Der Zugang zu den klinischen Referenzgruppen erfolgt über ein zentrales Portal auf Confluence, das auf klinische Massnahmen ausgerichtet ist: http://snomed.org/crg. 
Kooperationsplattform von
SNOMED International
...
– Confluence
Confluence is an online forum/space where the people within SNOMED International Governance and Advisory Bodies can communicate and share information. Confluence facilitates a range of types of communications, including written discussions, meeting announcements and document sharing.Members, Affiliates, or other interested parties can gain access to the Collaborative Space to learn more about IHTSDO, SNOMED CT, or to participate in a Special Interest Group. More information about Confluence is available at ist ein Online-Forum, in dem die Beteiligten der Leitungs- und Beratungsgremien von SNOMED International kommunizieren und Informationen austauschen können. Confluence ermöglicht verschiedene Kommunikationsarten, einschliesslich schriftlicher Diskussionen, Ankündigungen von Sitzungen und das Teilen von Dokumenten.
Mitglieder, Partner und weitere Beteiligte erhalten Zugang zur Kooperationsplattform, um mehr über IHTSDO und SNOMED CT zu erfahren oder sich an einer Interessengruppe zu beteiligen. Weitere Informationen über Confluence ist unter https://confluence.ihtsdotools.org/ abrufbar.
Overview
Content Tools
Apps