search
attachments
weblink
advanced
tooltip
Overview
Content Tools
Apps
SNOMED International is recruiting up to 5 annotators for an exciting project being run by SNOMED International to create an Entity Linking Challenge, encoding unstructured patient data with SNOMED CT using AI techniques. 
The project is set to commence in July 2023 and is estimated that the work will equal a minimum of 20 hours per week over a 2 month period. Annotators will be compensated $60USD per hour. 
Requirements for annotators: 
Able to annotate clinical notes over a 2 month period or approximately 

Attend a training workshop and participate in weekly team quality review meetings

Fluent in English

Able to work remotely

Complete the

MIT PhysioNet clinical data training

(around 2 hours) before the project commences

Previous exposure to coding using SNOMED CT

Possess one of the following backgrounds: 
Clinical practice in a primary care setting. This could include medical students who have completed several placements or rotations in the appropriate institutions.

Clinical coders with at least one year's experience.

People with a year's past experience annotating medical notes to SNOMED CT for the purpose of clinical product development or natural language processing.


Please send your resume and letter of interest to SNOMED International (annotation@snomed.org). Deadline to submit is Friday, June 9, 2023.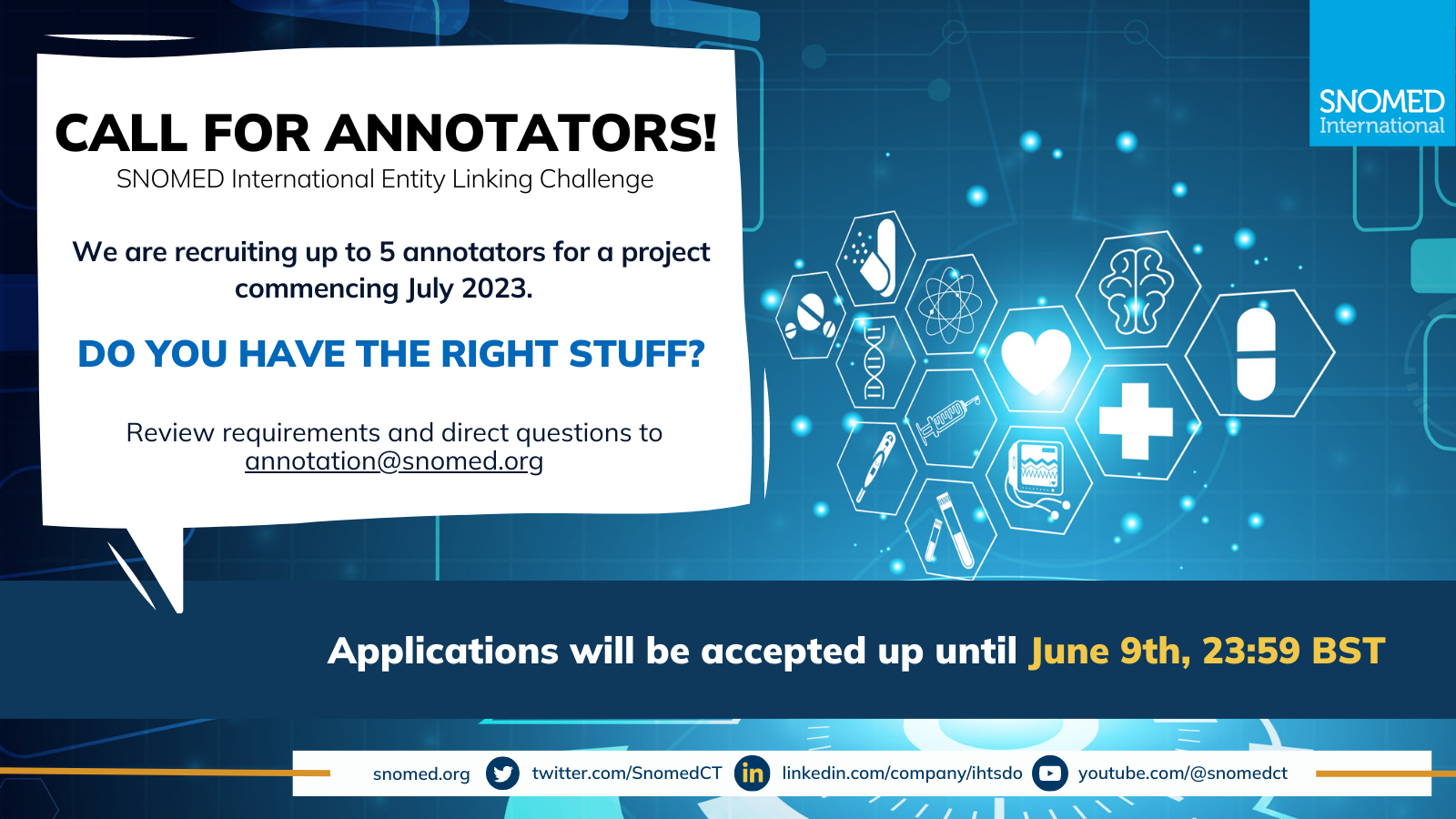 SNOMED International recently released its 2022 Annual Report, which presents the organization's progress against the SNOMED International 2020-2025 strategy, details its activities over the past year, and provides a record of the year's financial position.
Titled Collaborating for Impact: The Achievements of a Dynamic Global Community, the 2022 Annual Report details our extensive activities throughout the year with various stakeholders across the globe, including the addition of 3 new SNOMED International Members. It also includes a number of global success stories, each focusing on SNOMED CT initiatives that helped our Members achieve specific outcomes...
Contact info@anomed.org for information.